Astrological Oracle Cards by Lunaea Weatherstone
Oct 22, 2022
Wellness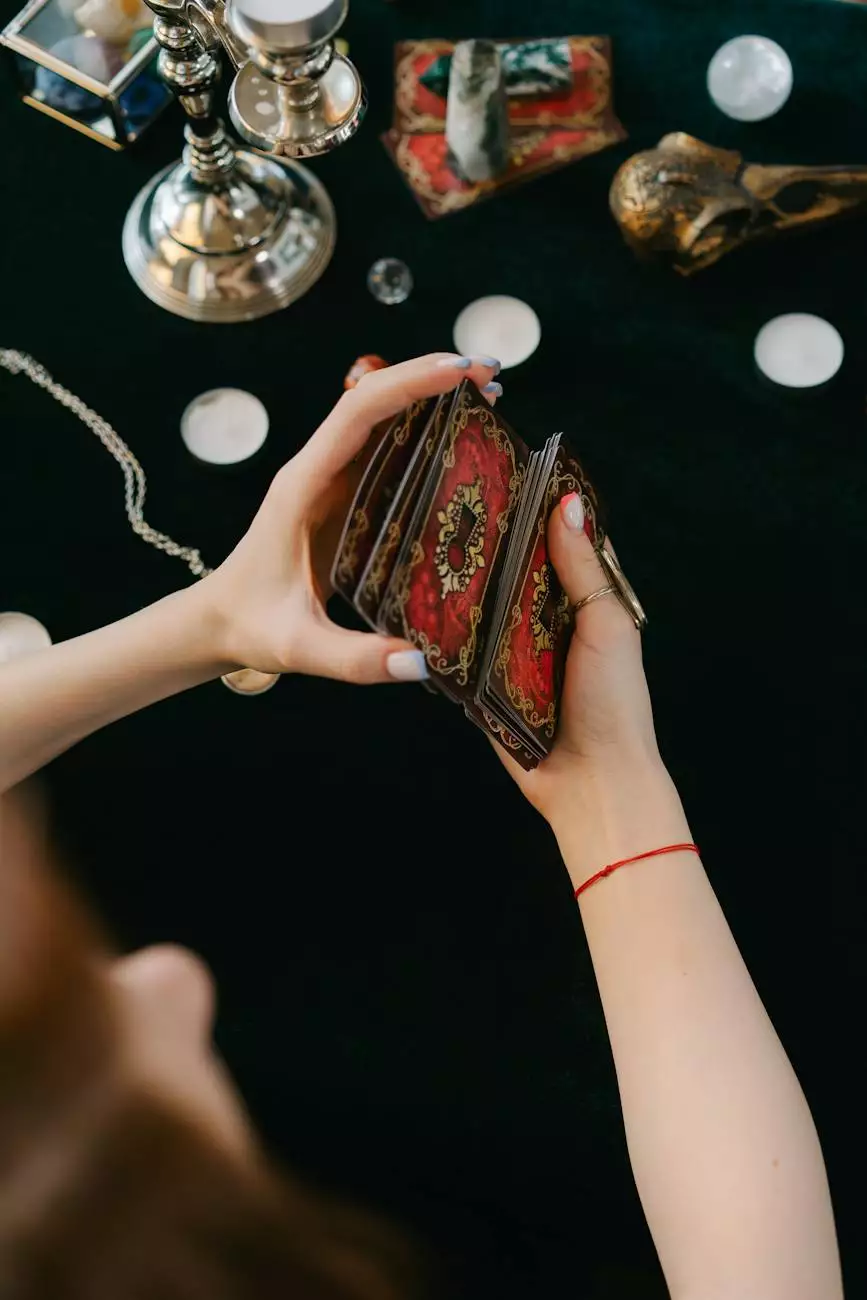 Welcome to Reiki The Boundless Energy, your go-to destination for alternative and natural medicine. We are excited to present our exquisite collection of Astrological Oracle Cards by the renowned author and artist, Lunaea Weatherstone. Dive into the mystical world of astrology with these beautifully illustrated and meticulously crafted cards designed to provide insightful guidance and spiritual enlightenment.
Unleash the Power of Astrology
At Reiki The Boundless Energy, we believe in harnessing the energies of the universe to promote holistic well-being. Astrological Oracle Cards offer a unique approach to understanding your inner self and the celestial influences shaping your life. Whether you are a seasoned astrologer or a beginner, these cards will captivate your imagination and deepen your connection to the cosmos.
The Magic of Lunaea Weatherstone
Lunaea Weatherstone is a renowned author and artist with a deep understanding of astrology. Her passion for the esoteric sciences led her to create these extraordinary Astrological Oracle Cards. Drawing from her extensive knowledge and deep connection to astrology, each card is imbued with profound symbolism and meaning.
Explore the Journey Within
When you embark on a journey with our Astrological Oracle Cards, you open the door to self-discovery and personal transformation. Each card serves as a pathway to explore the depths of your subconscious mind, allowing you to gain clarity, insight, and guidance on your life's journey.
Why Choose Our Astrological Oracle Cards?
1. Unparalleled Accuracy
Our Astrological Oracle Cards are designed to provide accurate and detailed readings. Each card is carefully aligned with astrological principles, allowing for precise interpretations. Experience the precision of these cards as they speak directly to your soul, revealing hidden answers and insights.
2. Exceptional Artistry
Lunaea Weatherstone brings her artistic prowess to every card she creates. Each illustration is a masterpiece, intricately crafted to capture the essence of astrology and its magical realms. Immerse yourself in Lunaea's mesmerizing artwork and let it transport you to a realm of beauty and enchantment.
3. Comprehensive Astrological Guidance
Our collection of Astrological Oracle Cards covers a broad spectrum of astrology-related themes and influences. From zodiac signs and planets to celestial events and cosmic energies, these cards delve deep into the astrological realm. Explore the rich tapestry of astrological wisdom and gain profound insights into yourself and your spiritual journey.
4. Easy to Use, Yet Profoundly Insightful
While these Astrological Oracle Cards offer rich and comprehensive guidance, they are designed to be user-friendly. Even if you are new to the world of astrology, you can easily connect with the wisdom they offer. The intuitive nature of these cards enables you to tap into your intuition and access the hidden knowledge that lies within.
Begin Your Astrological Journey Today
Unlock the secrets of the cosmos and embark on a transformative journey with our Astrological Oracle Cards by Lunaea Weatherstone. Immerse yourself in the profound wisdom of astrology and gain a deeper understanding of yourself and the universe. Explore our extensive collection of cards and experience the magic and power of astrology today.
A wide range of Astrological Oracle Cards: Explore our collection of cards featuring zodiac signs, planets, celestial events, and more.
Next-level card readings: Experience the accuracy and precision of our Astrological Oracle Cards for in-depth insights.
Beautifully illustrated: Be captivated by Lunaea Weatherstone's stunning artwork that breathes life into every card.
Guidance for beginners and professionals alike: Whether you are new to astrology or an experienced astrologer, our cards offer wisdom for all.
Tap into your intuition: Connect with your higher self and tap into the unlimited potential of your intuition through these cards.
Enhance your spiritual journey: Allow the mystical nature of astrology to guide you on a path of self-discovery and spiritual growth.
Experience the power, beauty, and wisdom of Astrological Oracle Cards by Lunaea Weatherstone at Reiki The Boundless Energy. Begin your astrological journey today and unlock the profound insights that await.