Sage, Palo Santo, and Cedar Oh My! What, When, and Why We Smudge
Feb 27, 2019
Therapies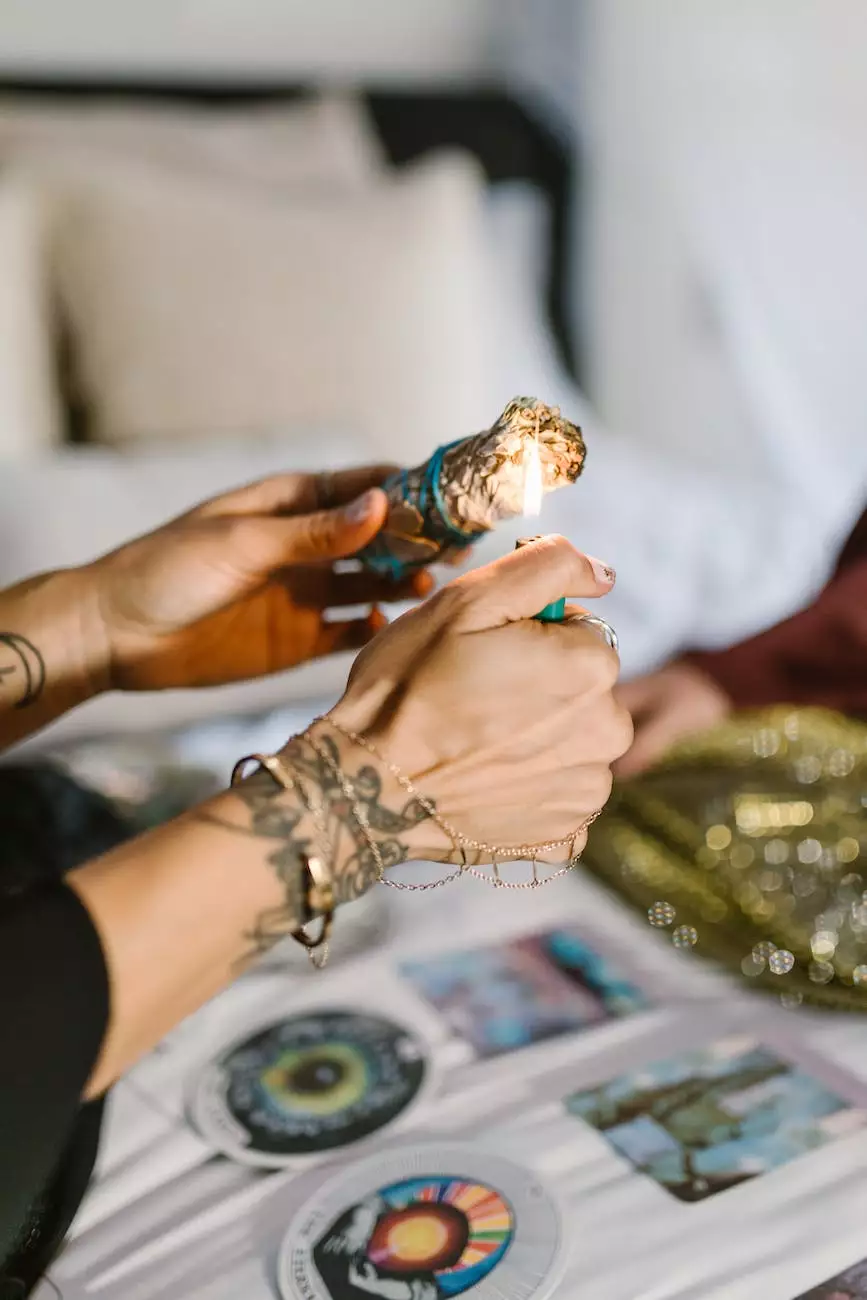 Welcome to Reiki The Boundless Energy, your trusted source for holistic practices and alternative healing methods. In this article, we will dive into the world of smudging with sage, palo santo, and cedar. Follow along as we explore the ancient art of smudging, its origins, and its significance in alternative and natural medicine.
The Power of Smudging
Smudging is a spiritual and healing practice that has been utilized by various cultures around the world for centuries. It involves burning sacred herbs, such as sage, Palo Santo, or cedar, to cleanse and purify the energy in a space, person, or object. The smoke carries the intention and energy of the smudging ritual, helping to dispel negativity and bring about balance and harmony.
What is Smudging?
Smudging is a ritualistic practice, traditionally performed by Indigenous cultures, shamans, and healers. The act of smudging involves lighting the chosen herb bundle, allowing it to catch fire, and then gently blowing out the flame. The smoldering embers create fragrant smoke, which is then used to cleanse and bless the desired area or individual.
Sage, Palo Santo, and cedar are commonly used in smudging rituals due to their powerful cleansing and healing properties. Each herb carries its unique energy, aroma, and spiritual significance.
When to Smudge?
Smudging can be performed at any time and in any situation. It is particularly beneficial during times of change, before and after meditation or personal rituals, when moving into a new space, or when wanting to clear stagnant energy. Many people also find smudging helpful for enhancing focus, promoting relaxation, and improving overall well-being.
Smudging Before Meditation
Before engaging in a meditation practice, smudging can help create a sacred and energetically clear space. By purifying the environment, you are better able to focus, release distractions, and dive deeper into your meditation experience.
Smudging During Personal Rituals
Personal rituals, such as intention setting, manifesting, or honoring the cycles of the moon, can be amplified by incorporating smudging. It helps to create a sacred and intentional atmosphere, enhancing the effectiveness of your rituals.
Smudging When Moving Into a New Space
When moving into a new home or office space, smudging can help clear any residual negative energy left behind by previous occupants. It allows you to start fresh and infuse the space with your positive intentions and energy.
Smudging to Clear Stagnant Energy
Over time, spaces can accumulate stagnant energy, which may affect our mood, productivity, and general well-being. Smudging can help clear these energetic blockages, creating a more harmonious and vibrant environment.
Why Do We Smudge?
The act of smudging serves multiple purposes and holds different meanings for various individuals and cultures. Some of the common reasons why we smudge include:
Energetic Cleansing: Smudging is believed to clear negative energy, spirits, and emotional debris from a person or space. It acts as a spiritual cleansing and purification technique.
Ritual and Ceremony: Many cultures perform smudging as part of sacred rituals and ceremonies. It is believed to invoke blessings, connect with higher powers, and honor ancestors.
Mindfulness and Intention Setting: Smudging can be used as a mindfulness practice to cultivate presence, set intentions, and create a symbolic shift in energy.
Enhancing Spiritual Connection: The smoke from smudging is often seen as a medium for communication with the spiritual realm. It can assist in deepening meditation, prayer, and spiritual exploration.
Aromatherapy and Healing: The aromatic smoke produced during smudging has therapeutic qualities, promoting relaxation, reducing stress, and uplifting the spirit.
The Benefits of Smudging in Alternative and Natural Medicine
In alternative and natural medicine, smudging is recognized for its potential health benefits. While scientific studies on smudging are limited, anecdotal evidence suggests the following benefits:
Energizing and Cleansing Properties
Smudging is believed to clear stagnant or negative energy in the environment, promoting a sense of renewal and vitality. It can help create a harmonious space that supports physical, emotional, and spiritual well-being.
Air Purification
Certain herbs used in smudging, such as sage and Palo Santo, are known for their antimicrobial properties. When burned, these herbs release compounds that may help purify the air by reducing airborne bacteria and pathogens.
Stress Reduction and Emotional Balance
The act of smudging itself can have a calming effect on the mind and body. The aroma from the burning herbs, combined with the intentional practice, can help reduce stress, anxiety, and promote emotional balance.
Spiritual Connection and Mindfulness
Smudging has been used as a spiritual practice to deepen one's connection with higher powers, the self, and nature. The ritualistic nature of smudging encourages mindfulness, presence, and introspection.
Explore the Art of Smudging with Reiki The Boundless Energy
At Reiki The Boundless Energy, we honor and embrace the power of smudging as a holistic healing practice. Our comprehensive resources and guides provide step-by-step instructions on how to smudge with sage, Palo Santo, cedar, and other sacred herbs.
Whether you are a beginner or seasoned smudging practitioner, our blog offers valuable insights, tips, and techniques to enhance your smudging rituals. We invite you to dive deep into our articles, explore the spiritual significance behind smudging, and learn how to incorporate this ancient practice into your daily life.
Transform the energy around you and unlock the boundless potential of smudging. Start your journey with Reiki The Boundless Energy today!